New! BSTU President in Question-Answer Session on VOB Brasstacks (April 26th, 2017):
New! BSTU and M.E.T.I. officials discuss the St. George School Issue (April 25th, 2017):
_____________________
Interactive! Ask the Union
Do you have work-related questions? Submit them here.
Sister Union
Umbrella Organisations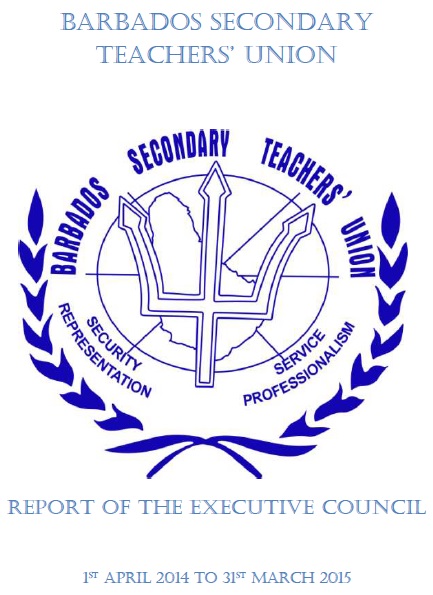 Documents
TPD 2015 Presentation
Click here to download the PowerPoint presentation made by the Principal Personnel Officer (Ministry of Education) concerning the procedures for obtaining various types of leave (including pre-retierement leave).
Learn about the teacher evaluation process
"A new evaluation system for teachers was designed to replace the existing Annual Reports used throughout the public service. The new system should provide timely, accurate information about schools and teaching learning strategies..." Read more...


___________________

The Social Partnership, established in 1991, has played an integral role in supporting Barbados' economic growth and stability over the past two decades. The contribution of the trade unions to the establishment and evolution of the Social Partnership is discussed in two articles, the first of which can be downloaded from here and the second one is available here.




___________________

UNION DOCUMENTS

Download your membership application form here along with its companion payment authorisation form here.




NATIONAL ISSUES


Download the Barbados Education Act (2002) here.

Are you being paid correctly? Have a look at the civil service salary scales which may be accessed here.
...and how safe is your workplace in the context of the stipulations of the Safety and Health at Work Act (2005)? The full text of this Act is available here.

INTERNATIONAL AFFAIRS

Strategies for coping with the current international recession, an interesting perspective presented here, along with another viewpoint which can be read here
© The Barbados Secondary Teachers' Union, 2017
Page last updated: April 10th, 2017.
All Rights Reserved.
As of June 9th, 2009, you are visitor number: